25 03 2015
Building a home server
I have a large collection of DVD's and Music CD's. Possibly around 200 DVD's, 20 Blu-ray Disks and 100 Music CD's (These totals could be way more, as I have not counted them in ages) as well as many gigabytes of Photos and other Data.
I needed a way to organise everything and cut down on space used. I have around 4 external drives filled with Data and Photos, and loads of shelf space taken by CD Media. That's when I decided to finally build a home server and kit it out with some dedicated drives. So I could have everything in one central place.
I chose the HP ProLiant Gen8 G1610T MicroServer. This server is perfect for my use. It's compact and quiet, but can take up to 4 standard hard drives, and has enough processing power for me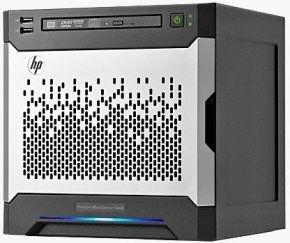 The server comes with an Intel Celeron Dual Core CPU and 2GB HP ECC RAM. Transcoding 1080p HD content will be a bit of a challenge but I can easily convert the files to a format that can be played by all devices. This will possibly be MP4 format with a codec of H.264.
I immediately added some extra ECC RAM and bumped the value to 6GB total. I then installed a 120GB SSD into the Optical Disk Bay, however this did require some modification as HP only provided an FDD Cable. So I ended up purchasing an FDD to SATA converter.
I was then able to secure the SSD into the ODD Bay, However I will possibly also end up getting a ODD to SSD Tray conversion. As currently it's wedged between two clips.
I intend to install some WD RED 2TB 3.5″ SATA 6GB/s 64MB Hard Drives into this server. Currently They will be in RAID 5. I'm using the built in HP Smart Array Controller to manage the disks. This was because you can't boot from the ODD SATA Port unless it's in an array managed by the HP Smart Array. I could possibly work around this by using a 3rd party bootloader on a USB Drive inside the server but it was more hassle than worth. So I bit the bullet and used the Smart Array.
This server will have either Plex or MediaBrowser installed on it, and I will be ripping all my DVD's and Music files to it and serve this content around to my TV's and other devices. All the important data will be backed up onto an external USB 3 drive. Anything very important will be backed of offsite as well.
Now to have a play around with Plex and MediaBrowser.